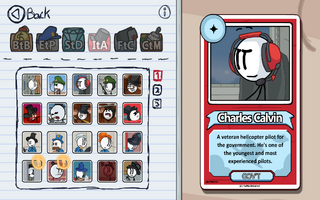 Bios are a feature exclusive to The Henry Stickmin Collection, which provide names and backgrounds for previously unnamed characters in the Henry Stickmin series. They were created in response to all the fanmade names for characters on this wiki.
Background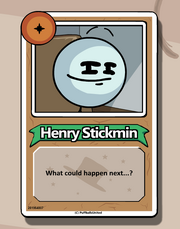 The majority of characters seen in The Henry Stickmin Collection will have a Bio entry, which are all, except for Henry Stickmin's, initially hidden and locked. They cannot be viewed until the player spots the character in a game, and right-clicks them.
Each game's Bios are separate, meaning that players will have to unlock the same character more than once if they are present in multiple games. It is also possible for the same character to have more than one bio within the same game if the character appears in multiple variations. An example is the Right Hand Man in Completing the Mission, where he appears both as a cyborg and as a human, depending on which pathway is chosen, and both as a normal cyborg or a cyborg rewired by Henry Stickmin (in Master Bounty Hunter's Rewire Fail)
The stars in the upper left corner indicate the difficulty of unlocking a bio. There will be more difficulty in unlocking Bios for characters who are moving at high speeds or are only seen for a short period of time, or those seen in a large and crowded group, making them harder to notice.
Bios
Breaking the Bank (5 bios)
Escaping the Prison (38 bios)
Stealing the Diamond (27 bios)
Infiltrating the Airship (58 bios)
Fleeing the Complex (75 bios)
Completing the Mission (222 bios)
Gallery
Trivia
Henry's bios for each game are already unlocked, since he is the protagonist.
A bio has the name of its faction below where applicable.
All bios from BtB-FtC combined make 203, which means CtM has more character bios than every other game combined, with 333.