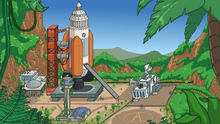 Completing the Mission is the upcoming sixth installation in the Stickpage/Newgrounds popular online game series Henry Stickmin created by Marcus "Puffballs United" Bromander.
Plot
The game will take place after the events of Fleeing the Complex. Ellie and Charles are confirmed to appear in the game. The main setting of Completing the Mission is a clandestine Toppat Clan base situated within a jungle, stated by PuffballsUnited in the new years post on Newgrounds.
Characters
Development
Series' creator PuffballsUnited announced a sixth installment to the Henry Stickmin series on November 22, 2016 on Newgrounds, revealing that the game will be "huge" and will take more than one year to come out. He also said that Ellie will return as a character.[1]
On January 5, 2017, Puffballs United officially announced that he started working on the sixth game. He said that the game will be the final installment in the Henry Stickmin series and that it will be at least "3 times bigger than Fleeing the Complex". Unlike all the other games in the series, the sixth game will not be a free online Flash game, instead it will be released on Steam along with remastered versions of all the other Henry Stickmin games as part of The Henry Stickmin Collection.[2]
On December 12, 2017, Puffballs United revealed a bit of an image which would later be revealed on January 3, 2018.[3] The same day, the acronym for the game was revealed to be CtM.[4] Finally on May 22, 2018, PuffballsUnited revealed the full title of the game: Completing the Mission.[5]
Gallery
References
Community content is available under
CC-BY-SA
unless otherwise noted.