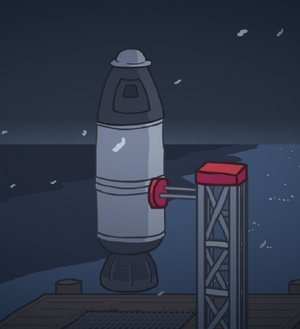 The rocket is a vehicle that appears in the game Fleeing the Complex. It is located on the outer docks at the foot of The Wall, along with the S.S. Annie and a Dinghy. 
The rocket is rather small, most likely meant for only 1 or 2 people. It is mounted on a launch platform and equipped with a parachute for landing.
Ghost Inmate
Henry reaches the docks during the "Ghost Inmate" ending of the game. In the final choice screen, the Rocket is one of three vehicles Henry can try to use for his escape. When chosen, Henry boards the rocket and attempts to launch it, but he accidentally activates the parachute first which causes the rocket to fly sideways during take-off and crash into The Wall. This leads to a fail.