Rope is an option in Escaping the Prison and in Completing the Mission.
Escaping the Prison
Henry uses a rope launcher to get off the roof of the West Mesa Penitentiary. Once fired to the ground below, the rope forms a zipline. Henry slides across it with his hands, but the friction burns his hands, so he is forced to let go. When he falls off, he is full of wounds and bruises, but alive. He stands in the middle of the road, and an Armored Truck runs him over, leading to a fail.
Fail message
This seems awfully familiar...
Gallery
Completing the Mission
In the Pardoned Pals/Toppat Recruits pathway, Henry and Ellie can combine the rope with another object in an attempt to escape from the parking lot where they are cornered by The Wall soldiers and Toppat Clan members.
Rope + RPG (Fail): The duo try to launch the RPG with a rope but when they throw it up in the air, it points at them and it explodes.
Rope + Wings: Henry and Ellie escapes the battlefield at the parking lot and makes their way to the Toppat Orbital Station.
In the Toppat 4 Life pathway, Henry fires a rope onto the cliff face in order to scale it. However, the rope acts erratic moving up and down, before launching Henry away from the cliff, which results in a fail.
Fail message
"What... was the plan there exactly?" (Completing The Mission during Pardoned Pals/Toppat Recruits route)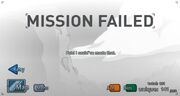 "Psh! I could've made that." (Completing The Mission during Toppat 4 Life route.)
Trivia
The armored truck that crushes Henry might be, ironically, the same truck he sneaked into when he got caught trying to break into the bank, which is the reason he's in prison.

PuffballsUnited stated in his developer commentary that the Armored truck running him over was a reference to the original Shovel fail, where Henry would survive a fall but then get run over by a train, hence the fail message.

However, since the remaster changed it to him getting blown up by gas main, the fail message makes no sense now.

The Rope in Toppat 4 Life is a reference to the Worms franchise.
The Rope and Wings combined are a reference to Scribblenauts.
Gallery
Community content is available under
CC-BY-SA
unless otherwise noted.