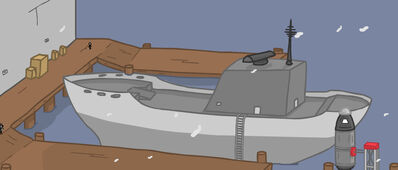 The
S.S. Annie
is a large ship that appears in
Fleeing the Complex
.
Ghost Inmate
The ship is moored in the docks below The Wall. During the 'Ghost Inmate' ending, Henry Stickmin uses the S.S. Annie in an attempt to escape from the complex. He sneaks on board, disposes of the Captain, and sails away. However, upon the crew noticing an unscheduled departure, Henry is attacked by one of the crew members with a knife, and presumably killed. This results in a fail.
Main Features
A ladder used by Henry to enter the ship on the starboard side of the S.S. Annie.
The bridge, where the captain is attacked.
Crew
An unnamed captain, who is attacked by Henry. 
An unnamed crew member, who attacks Henry. 
Music
The start of the credit song "Ghost Inmate" (Unreeal Superhero) plays when henry begins to sail the S.S. Annie right before the crew member stabs him.
Gallery