"

It's all the Henry Stickmin games in one place! That's right! Breaking the Bank, Escaping the Prison, Stealing the Diamond, Infiltrating the Airship, and Fleeing the Complex, plus a new game that will be the Henry Stickmin finale.

"
― Innersloth official website
The Henry Stickmin Collection is a collection of choose-your-own-path games created by Marcus Bromander and developed by Innersloth. It was released on Steam on August 7, 2020 and costs 15 US dollars there. The game includes remastered versions of the first five games in the series, with a new game named Completing the Mission alongside it.
The games follow the namesake character Henry Stickmin on his various but very dangerous adventures. First starting off as a thief, he can later become an agent of the Government, the leader of a notorious criminal syndicate, or remain neutral as a thief.
Overview
The Henry Stickmin Collection includes all six games in the series: Breaking the Bank, Escaping the Prison, Stealing the Diamond, Infiltrating the Airship, Fleeing the Complex and Completing the Mission. Breaking the Bank has been completely redone. All the games preceding Completing the Mission have newly remastered art and sound, and improved graphics.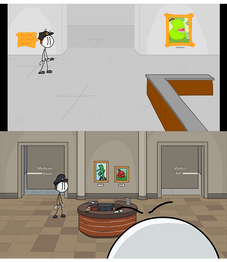 Plans
This is a list of plans that were revealed by PuffballsUnited (Marcus B.) on Newgrounds regarding the Collection, prior to its release.
Differences
General
Breaking the Bank
Escaping the Prison
Infiltrating the Airship
Fleeing the Complex
Reception
Steam users have given the assemblage package "Overwhelmingly Positive" reviews, with a 99% rating based on 7,600+ reviews. Reviewers have praised the Collection for its humour, animation, production value (specifically in Mission), & storylines, with some praising the sense of nostalgia they experienced while playing the game. Despite the universal praise, some have noted the frequency of frame rate issues and crashes in fullscreen mode, as well as the US$15 price tag on Steam.
Similar to the flash series, several popular YouTubers have played The Henry Stickmin Collection (including Markiplier and Jacksepticeye), which have millions of views respectively. In addition to this, the Distraction Dance became a viral internet meme (the meme being a bait-and-switch meme reminiscent of Rick Roll and Get Stick Bugged Lol), which caused The Henry Stickmin Collection to achieve even more global success.
Completing the Mission, the sixth and final game in the series which is unique to this collection, has been praised by players and reviewers, and is often considered the best game in the series.
Gallery
Video Walkthroughs
Trivia
Community content is available under
CC-BY-SA
unless otherwise noted.