Hello! I'm an Henry Stickmin (and Henry Stickman) fan who helped a bit on this wiki, with categories, images and content!.
I'm always open for questions on Discord too (on the server, don't send a direct friend request please). There is my page:


Lately, I've also been able to get my hands on a flash decompiler. This means I'm able to get several files of the game, mostly characters, options and more! I put the transparent images on galleries to make the page look better, or replace the ones that are edited.
Fun Stuff I found on the Files:
Unused Bios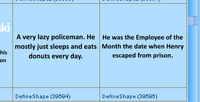 These bios went unused in the game, and appeared between the Pardoned Pals/Toppat Recruits bios. They're liekly belonging to Kev Portly and Ryan Goldman. What's your opinion? Tell me!
SBO Crystal
I found this crystal that was going to appear on the files. What crystal is that? Is that a reference? You can talk about it on my Talk Page!
Bloodhound & Tayne

Found the files of these two characters. Normally, the window in-game would make their hat colors hard to see, but now we know the truth!
Barry Bruh?
I found the Toppat from the Parasol fail. I think it's Barry Bruh. What's your opinions? Tell me!
Scar Full Head
I managed to find Scar's full head.
Steinfield background
The Sein Seinfeld background from the TV Broadcast fail.
and, that's it for now. I'll add here if I find something worth mentionating!
Favorite endings from each game
CtM: Special BROvert Ops, Jewel Baron, Little Nest Egg
FtC: Convict Allies, Presumed Dead (I like the dock part in GI tho)
ItA: Rapidly Promoted Executive, Government Supported Private Investigator
EtP: Badass Bust Out

Pages I created:
Government Communications Device
Several minor characters on the
Deleted ones: Toppat Van Driver, Mr Pants, CCC Prototype Suit Soldiers (got moved to List of minor characters) Goombas Achievement Only Characters

If you have any questions, don't be afraid to contact the staff.

Withersoul 235
Retired
Message
TheWitheredStriker#0001

KirbyTheBulborb
Retired
Message
Kirby Bulborb#7649

Veryender214
Administrator
Message
⠀