Welcome to my page!
JOIN THE CRUSADES TO RECLAIM THE HOLY LAND! DEUS VULT!!!! Bought already the Henry Stickmin Collection and I am super duper interested in Henry Stikmin series. Just to know, the best ending by me is Triple Threat. Idk why no one (jk many do) choose it.
Good and bad endings (by me)
SCP-6001
I am an SCP Agent known by his nickname as Agent Lionheart. I am sent by the O5 Council to neutralize SCP-6001. If you are an SCP-6001-2, I can cure you. Just send me message if you feel unwell and parachutes infected your mind or something like dat.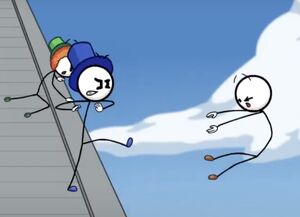 NON-STOPPING GAMER2009
A happy postsman and editor from Greece, came to the Henry Stickmin wiki through Among Us references. He does not want to be admin, but he cares about the wiki. His favourite character is Charles Calvin